Prof. Markus Zdrallek mit NRW-Umweltminister auf Delegationsreise in den USA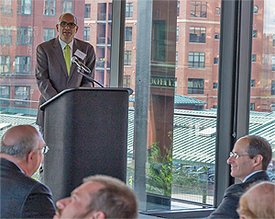 Die Delegation traf sich dort unter anderem mit dem Gouverneur von Kalifornien, Dan Brown, einem der Vorreiter in Sachen Klimaschutz in den USA. Minister Remmel unterzeichnete in Kalifornien das Memorandum of Understanding (MoU) "Global Climate Leadership" zum internationalen Klimaschutz.
Prof. Zdrallek hielt auf einem Symposium in Minnesota einen Vortrag mit dem Titel "Smart Grids for the 'Energiewende' in NRW and Germany". In anschließenden Gesprächen mit dem Umweltminister von Minnesota und mehreren Vertretern amerikanischer Stromversorgungsunternehmen diskutierte der Wuppertaler Energieexperte über die an der Bergischen Universität entwickelte iNES-Technik.
"In Sachen Smart Grids sind wir – gerade in Wuppertal – deutlich weiter als die USA", so das Fazit von Prof. Zdrallek.