Bildergalerie
In unserer Bildergalerie finden Sie Fotos der verschiedenen Uni-Standorte (Campus Grifflenberg, Freudenberg und Haspel) sowie Porträts der Rektoratsmitglieder.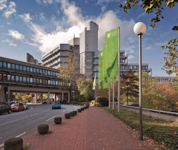 Welcome to the press office website!
Here you will find the latest news from the University of Wuppertal!
Unsere Publikationen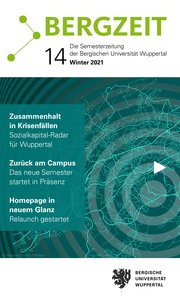 Spannende und unterhaltsame Neuigkeiten vom Uni-Campus – vom Haspel über den Grifflenberg bis zum Freudenberg – das bietet die Semesterzeitung BERGZEIT, herausgegeben von der Stabsstelle Universitätskommunikation.
Zielgruppe sind Studierende und Beschäftigte, aber auch Ehemalige sowie interessierte Bürger*innen. Mit Ausgabe 14 ist die Zeitung erneut rein digital erschienen. Außerdem steht sie als barrierefreies PDF-Dokument zur Verfügung.
Klicken Sie hier für eine Übersicht aller bisherigen Ausgaben.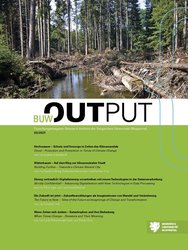 BUW.OUTPUT ist das Forschungsmagazin der Bergischen Universität. Zweimal im Jahr stellen Wissenschaftler*innen verschiedener Fachrichtungen aktuelle Projekte vor und geben einen Einblick in die vielfältige Forschungslandschaft der Bergischen Uni.
"Wandel und Veränderung" ist das Thema der aktuellen Ausgabe.
Klicken Sie hier für eine Übersicht aller bisherigen Ausgaben.
Zum Download angebotene Fotos sind ausschließlich für publizistische Zwecke bestimmt; Quellenangabe erbeten.